La Paz Publications Presents:
Master Weavers of the Altiplano
The Ancestral Artistry of Highland Women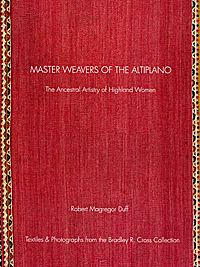 This book features the anonymous female master weavers, of the Andean Altiplano. Textiles dating back fifty to five hundred years are presented, all hand spun, mostly Alpaca with natural dyes, some Vicuna. All these have been in continuous use, mostly for ceremonial applications.

The textile collection and period photos from the 1970's are from the Bradley Cross collection. Three are from his collection that the Detroit Institute of Arts purchased, the remaining 69 are still in his collection. This art book was printed in Ann Arbor, Michigan, at Edwards Brothers Malloy.
$49.95 + $8.00 shipping
(your receipt will read: Harmony Hollow)
---
Bolivar's Inca Quero
The Ultimate Royal Prophecy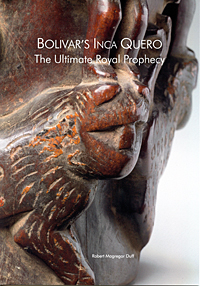 A new monograph from Robert Duff exploring a forgotten historical peak in the life of South Americas Liberator, Simon Bolivar. Explore the events in the life of one of histories greatest warriors for freedom as he celebrated the end of the American Wars for Independence as the reluctant Emperor of Peru receiving his greatest honors from the indigenous people of the Lake Titicaca region.

Relive the days of pageantry of August 1825 in the last gasp of the Inca Empire and the first breath of democratic Republics. And be thrilled by the greatest Inca toast ever composed by the savant Jose Domingo Choquehuanca delivered to Bolivar in the final ceremony of the Incas. English and spanish versions. 28 pgs. soft cover.
See Selected Photos from this book
$10.00 + $6.00 shipping
(your receipt will read: Harmony Hollow)